| | | |
| --- | --- | --- |
| | Professional Development News | |
Your video must have the requirement set out by your teacher. For Mr. Egnot and Ms. Thornburg, the video must include historical footage (you can use YouTube to find clips) plus your own footage plus voice overs where you describe the importance of the footage you've chosen)These specific instructions and hacks are from the 7th grade assignment but might help others:

To make your Individuals and Societies documentary, you must have:

a 30 sec trailer:

Hack- use iMovie trailer, export it to your camera role then reimport the trailer into imovie as a movie for editing to the right lenght and adding sound or voice overlay.

an 8 min documentary incorporating historic footage with your own voice over narration as well as live action you script
A QR code of the link to your video (I recommend Google Drive)

Documentary Steps:

Prepare:
Research: Learn about your topic. Know how to pronounce the vocab.
Find the clips you want to use in your documentary by searching YouTube.
Practice. Ask someone how to pronounce the words or listen for them in a video.
Film live

Add Historic video. Find the footage on YouTube and play it on your chromebook while you record it on your secondary device (phone or iPad) or

Mr. Egnot recommends Clip Converter this link shows you several ways to

add YouTube Videos to your Chromebook/Google Drive
Add Voiceover or music (Hack: add music as a voicover by playing it from another device)

Edit footage down to 8 minutes.

Save to camera role and upload to google drive.
Open Google Drive. Share it . Make sure you add your teacher or make the link public or CMS Public.
Copy that link and Make a Short URL (see video below)
Make a QR CODE (See Video Below) (if you use unitag you have to unzip the file to get the image file.)
Paste the URL and code into a Google Doc
Type your Documentary Topic (Country Name) as the heading of the doc. It should look sort of like this (just to give you an idea)
Print the Google Doc so it will be ready for use in the hallway.

WeVideo

WeVideo is a free app on your Chromebook. Today we'll learn how to use it to make a short videoIf you need more information, click tutorials and developer

support for WeVideo

​

Login to Chromebook with your school Google Account

Open the WeVideo app icon or go to the

WeVideo url

Sign up or Log In using your Google account (that's the same account you use to log into your Chromebook at school.

Do the tutorial that immediately loads.

Begin filming and editing. For help, use the tutorials at

WeVideo Academy

, for example this one shows

How To Record Video with Your Webcam

https://www.wevideo.com/academy#3ca7uij8bt



Give yourself time for something to go wrong. Tech is glitchy but persevere and you will be proud of your result.

if you need your video longer than 5 minutes, you'll have to make 2 videos separately: Part 1 and Part 2.
Powered by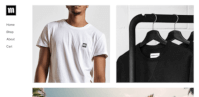 Create your own unique website with customizable templates.
Photos used under Creative Commons from HikingArtist.com, Leonidas-from-XIV, Ungry Young Man, final gather, Roel Cayas, download.net.pl, Alex Lupo, Roel Cayas, schizoform, IGypsyWoman, chris favero, Roel Cayas, Celestine Chua, kjarrett, aulbarnes08